Dynamic solutions and reliable services
Elettromar has taken this presupposition the most important company tenet. In fact, the greatest care and attention to company elements make Elettromar unique on the market. The success of our customers is our goal.
Elettromar is an engineering and construction company that proposes turn-key solutions aimed at the optimization Customer's productive processes through the realization of integrated industrial process and product automation systems.
Technological competence
Long years of hands-on plant experience allied to a deep knowledge of the technical principles of industrial automation make Elettromar a thoroughly reliable systems integrator.
Operating effectiveness
The ability to diversify operating strategy in a variety of fields of activities has allowed Elettromar to acquire niche specialization that promotes the development of an ever-new, high quality propositivity.
Global success
The location close to main industrial areas at national level and many worldwide projects carried out testify the company's ability to operate wherever the customer may requireit presence.
The success of our Customers is our goal
Elettromar offers turnkey solutions in order to optimize the customer production processes through the implementation of integrated industrial process and product automation systems. The long-year of hands-on plant experience allied to a deep knowledge of technical principles of industrial automation make Elettromar a thoroughly reliable system integrator.
Strategy
Specialization
The development of core technical skills, the adoption of advanced project management techniques and the implementation of an integrated management system represent some of the organization-oriented interventions, the innovation and the greater competitiveness. The emprouvement of human capital allows to have excellent resources at all times and to ensure quality performance.
Diversification
Elettromar has important experiences in the Energy, the Environment and Paper making fields (for process automation), the Rail and Marine transport (for product automation).All that is the evidence of its flexibility and dynamism in tackling global challenges.
Values to build the future
Being an excellent systems integrator in industrial process and product automation presupposes the existence of a dynamic, organized company world, very attentive at technical and technological evolution.
Reliability and technology
The continuous investment in company processes aimed at development of human capital. Elettromar have excellent resources at its disposition and can guarantee high quality performance every time.
Flexibility and dynamism
The strong customer orientation of the Elettromar organization is the inspiring principles of the company. An innate propensity to reshape it's operating flows in order to ensure Customer satisfacion, all that characterizes the Elettromar offers to the market.
Respect and Team spirit
A constant commitment turned to fairness, to mutual trust and to active cooperation.
Elettromar history
Elettromar is on the market of most important industrial sectors for over 35 year.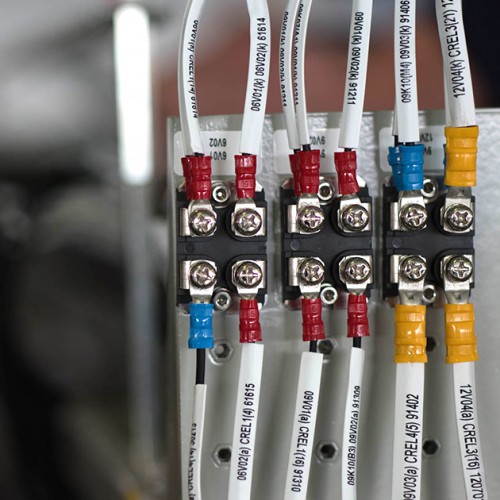 Multisectoral Experience
The organizational structure of Elettromar is characterized by professionalism and ability. The over 25 years of experience gained in the many industrial fields show the aptitude of an organization able to shape its corporate identity in function of sectoral typologies, developing a new and quality proposition.
Activity sectors
Projects
AM4.0 : Macchina per il miglioramento delle performance meccaniche di ABS da stampa 3D
ELETTROMAR s.p.a. Progetto finanziato nel quadro del POR FESR Toscana 2014-2020.

ELMAR – Investimenti ristrutturazione delle aree operative di Elettromar, per ottimizzare i processi rispettando i requisiti di distanziamento;
adozione di procedure di telelavoro e di misure di protezione da Covid19.
Progetto co-finanziato dal POR CreO FESR Toscana 2014-2020 Azione 3.1.1 sub 3a).

News

05
MIAC 11-13 October 2023 - Lucca
We will exhibit at the upcoming MIAC - International Paper Industry Exhibition - Lucca.
It is a pleasure to be part of the most important event dedicated to Pulp&Paper Industry, we look forward to meeting you!
Elettromar S.p.a. - Via Archimede, 186 - 58022 - Follonica, Grosseto - Italia
Social capital € 500.000,00 - C.C.I.A.A. GR N. 00641720537 - VAT number 00641720537
SOA registration 6157/04/00 - REA 65800